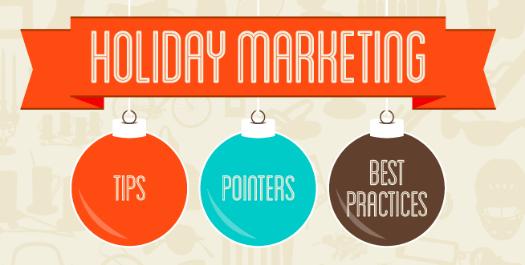 Worried about marketing during the holidays because of who or what you're marketing? Don't want to see any kind of slump in sales or leads while everyone is getting together for parties and generally forgetting about work?
Worried about male-pattern baldness?
Unfortunately can't help you there but can help you with some ideas on how you can market your business and brand during the holidays using four specific tactics as well as looking at two industries most of us would consider 'off-season' holiday businesses per case studies: insurance and real estate.
As a matter of fact each of these industries can have distinct advantages during the holidays.
Insurance Marketing
Bret Maddock, from life insurance brokerage QuoteSteps says that at the end of the year, insurers will allow more risk that way they can get more premium on the books before the end of the year.
In a lot of B2B and B2C industries, getting a few last sales on the books before the quarter ends is usually a standard practice for obvious reasons. Because of this, many consumers and businesses are willing to promote deals that help their sales numbers look good for the end of year.
Bottom line, the principal at work here is 'the deal'. Consumers are already looking for one, a lot of businesses are giving deals out like candy, and you can profit from this situation.
Real Estate Marketing
While most people don't think of the holidays as a good time for house-hunting, there are certain realtors like Paola Martinsen that say this may be just the reason that consumers do it. Less competition with other buyers and more sellers that are desperate can mean a great deal. Historically, interest rates are lower in the winter. A seller who lists property in the wintertime is normally someone who is honestly wanting to sell vs. someone who might be putting their home on the market for a certain dollar amount and more than likely not be willing to take anything less.
Realtor's like this also see that prices normally dip during the wintertime and see that there's an advantage for home buyers during this time of year. Seeing a desired property during the 'worst time' can tell you a lot about what you can realistically expect for example 'is the heater working like it should?' or Are there any leaks?', etc.
The holidays are a perfect time to reestablish a relationship with the people in your database. It's great to send warm wishes to people that had shown interest earlier but just were not ready to buy or sell at the time. This is the time of year to invest a little more in the marketing budget.
The principal here is that marketers who live, work and play in what would normally be considered an off-season industry as it relates to the holidays, need to be conscious of the opportunities that are in front of them.
Here are four strategies to market your business during the holidays.
1. Create a seasonal branded meme. It can be plain or complex, depending on your marketing strategy. A perfect example of this is Google. Their logo is very flexible, and can be reconstructed to represent any season, holiday, or event.
2. Provide amazing rebates. Think ahead, and have the resources ready to present the kind of offer that new customers and repeat customers will find irresistible. Your client base will grow, and your existing customers will feel their loyalty has been deeply appreciated.
3. Keep your door open 24/7 (a website is perfect for this or as long as you can). Remember that family trip out of town that you've been planning for a while? Now is NOT the time to take that trip. You must be available for the holiday market, ready to dive in and take advantage of this year's fads and fancies, as it were.
4. Set in motion re-targeting advertisements. Besides search ads, you need re-targeting ads to bring back those potential customers who have already visited your site and can be invited back with almost no hesitancy. Re-targeting ads help marketers run streamer ads that are extremely effective in drawing back someone who is already familiar with your product or service. These re-targeted pieces are no longer strangers to your company or brand, you might say they are neighbors now, who are familiar with you and comfortable with what you represent. They can be prepped to purchase with less than half the effort it takes to convert a cold prospect. Ads playing up a specific holiday promotion are extremely effective in bringing these neighbors back to follow through on a purchase they have already been thinking about.
The bottom line in all this is that marketers, entrepreneurs, and business owners are people too. They of course want to spend time with their families and friends etc. In no way does this mean not to take time off during the holidays.
Just advice that a) is reminding you that the holidays can bring them with them giant opportunities that may not realize and b) providing you with some ideas so you can have a glorious holiday season both with our friends and family as well as with your bottom line.